We're just about done with Tuesday. Let's see how far along that puts us in
the Shitstorm
by now. Oh yes. Today was
Resilience Day
.
FEMA director Craig Fugate said he loves the word because it means whatever you want it to mean.

And if you've been paying attention over the last couple of weeks, you'd think he was right. "Resilience" has replaced similar words, or been used in sentences where it didn't necessarily need to appear, to define the City of New Orleans' philosophy as it prepares for the 10th anniversary of Hurricane Katrina and the federal levee failures. Mayor Mitch Landrieu has planted his "resilience" seed (or some form of it — "resilient," "resiliency") in speeches throughout his terms as mayor. (And if you're keeping score at home, you can add "vibrant," "new Orleans" and "NOLA for Life" to Landrieu's list.) The word has seemingly grown into a jungle of word salads with business lingo and jargon-y nothing phrases that have taken over dozens of panels, events and speeches this week. Its overuse implied it not only didn't mean anything but that there wasn't anything to be "resilient" about. But the word now defines a plan that the city will look to over the next decade and beyond.
FYI:
The city's Chief Resilience Officer makes $172,000
.
You laugh but, according to
this Slate article
, the guy might have some work to do.
After Katrina, the second line became a symbol of New Orleans' resilience. But the survival of the parades—and the neighborhoods the revelers called home—is far from assured.
That can't be good. I mean, if you lose the "symbol of resilience" what else to resilience really is there worth having?
Anyway, this isn't an article about "resilience." It's an article about gentrification even if it doesn't know that it is. Despite the media hyper-focus on the fate of "culture bearers" who do interesting things that tourists might like to see, the escalating costs of living in New Orleans affects an entire class of people. The fact that the "culture bearers" in question happen to be a segment of that class merely makes this an attractive story for a national outlet.
The reason this caught my attention, though, was the particular piece of resilience theater the article opens with; an "All Star Second Line" organized on MLK weekend in 2006.
Meanwhile, displaced second liners, many of whom had no transportation of their own, were renting cars and even chartering buses to get to the parade. Vallery made a desperate call to City Council President Oliver Thomas, who had strong ties to the clubs. Thomas thought this second line might be the last one the city would ever muster, that the tradition itself was at stake. "That's why, for me, it had to happen," he told me later. He convinced the Nagin administration that the parade would be more manageable than a crowd of people who found their way back from exile only to discover it had been canceled. He helped secure a permit for a route contained in NOPD's First District, a loop around Treme, regarded by some as the oldest black neighborhood in the country, and a bit of the Seventh Ward, birthplace of Jelly Roll Morton and Sidney Bechet.

Two days later, around 300 club members and three brass bands filled St. Claude Avenue in front of the Backstreet Cultural Museum. The club members wore black shirts that said "renew orleans" across the chest. Father Jerome LeDoux came out of St. Augustine Catholic Church to bless them. Thousands of people surrounded the clubs, spilling onto side streets. From the front porch of the Backstreet, Jackson announced that the second-line community was coming home. If the club members had affordable housing and basic services, she said, they would bring the city back to life.

Then a bass drum thumped, the horns started to play, and the parade proved the point. Empty streets filled with people, shoulder to shoulder, flowing around piles of moldy sheetrock on the curbs and onto porches of vacant houses with holes in their roofs. Dancers spun, popped, and jumped on the hoods of drowned cars. Thomas danced along with them. "We exorcised Katrina" that day, he recalled. It was considered by many the biggest second line ever. The parade gained momentum turning onto Claiborne Avenue, and it felt to me as if the force of these thousands of people was reshaping the city. Jackson remembers the turn onto Claiborne as "the greatest moment of my life.
Yeah I was there to see that moment. Here's the parade coming down Claiborne.
Here it is later on Rampart.
Oh and hey look. I forgot I shot video. It's not much.. that camera didn't take the highest quality video... but, well, here.
Here's the parade turning from Claiborne, probably onto Esplanade, I don't remember the route exactly. This video quality isn't great but you do get a little bit of the sound of the drum echoing under the overpass.
Another thing you might remember about the Claiborne overpass was the parking area beneath it had, by this time, become a repository for flooded vehicles. I got some pictures of those that day.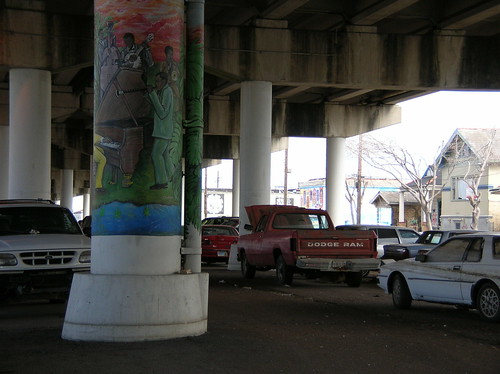 There was also this abandoned boat sitting on the curb at Bayou Road.
And that's where I went on Friday to revisit the scene. The boat and cars have been cleared away. Marie Laveau seems rather indifferent either way. She was always pretty resilient, though.